Foraging For Parrots – 8 Ideas to Get You Started
Alexandrine parakeet with 4 food dishes on his cage (2 inside, 2 outside)
Idea #1 – Multiple food dishes to encourage movement from your perch potato. 
This is a technique I used with Rasta the alexandrine parakeet to encourage him to wander, explore and adventure outside of his cage by using his playstand on top of his cage to hold small pieces of food, as well as mix and matching where food was at all times. This way he was still in the comfort zone of his cage, but venturing outside of it a bit too and getting climbing exercise. When he would go up top I would drop a little piece inside and vise versa.
Photo provided by Sharon Burhart of her parrotlet cage
Troubleshooting: If your bird's cage doesn't have a play top, use perches that have coconut shells to hold food and put those on the outside of his cage to hold food, or try pushing foraging trees up against the cage so your bird can climb onto it and find food.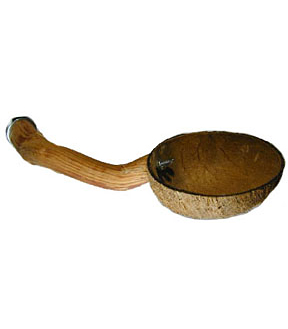 Coconut perches are available at your local petstore
You could also push up t-stands to your bird's cage and hang baskets with food from it!
Idea #2 – Make your own foraging or food finding toys.
If you can't afford to buy parrot foraging toys then make your own!
Get some paper cups and use a piece of rope or veggie tanned leather to tie them together so that your bird has to lift one to get inside the other and eventually destroy them to get to the goodies inside!
Troubleshooting: Don't have paper cups? Find them for cheap at your nearby dollar store or party store, or use plain muffin cups too! For longer lasting toys, use coconut shells or wooden bowls.
Idea #3 – Baskets and Buckets! 
These are especially great for not just parrots, but toucans too. My toco toucan LOVES unwinding woven baskets and toys! Plus, it takes forever!
Get some woven baskets and buckets and use them to hide food in and hang from your bird's cage, or just set them on shelves in your bird's cage, on top, around or on the bottom. You can even set them inside your bird's food dish!
Troubleshooting: The craft store is your best friend during this time. Find the best non-treated wooden and woven accessories that you can use for your bird and make the most of out of it! If you have a creative friend, ask their advice for how to get even more creative with these fun home made bird toys!
Idea #4 – Recycle! 
Many of the reusable foraging toys on the market today are just cardboard boxes – so get your own and fill them with goodies for your bird to open, it could be Christmas for your bird every day!
Troubleshooting: If your bird is too timid to approach these new toys, try poking large holes so your bird can see what's worth getting at inside. Eventually you can start to make the holes smaller and smaller until your bird is the only one making the holes at all!
Idea #5 – Be safe, use manila rope! 
Many rope toys are dangerous because they fray, allowing your bird to catch a toe or worse, a whole leg within it and get tangled. Use manila rope for your toys so that the rope literally breaks and does not fray. Then use the rope to suspend treats in by knotting the rope and hiding bits of food within the knots!
Idea #6 – Wrap it up! 
Plain printer paper does the trick! Simply wrap up treats for your bird in paper and twist the ends. Poke holes to get a timid bird interested and stuff the paper wrapped goodies in other toys to add more difficulty, or simply put them in your bird's food dish.
Make it a bit harder by tying the ends with leather pieces or manila rope, or suspending it in the middle of your bird's cage.
Idea #7 – Parrot party! 
Get together with friends and head over to the craft store, party store and dollar store or local bird fair to grab up a bunch of supplies and get to work together, keeping each other creative and sharing ideas will help the process along!
Idea #8 – Get 100% naturally made foraging toys for your parrot.
Foraging toy from www.birdtricks.com/parrot-toys
Don't have the time for all this? Get 100% naturally made foraging toys shipped right to your door as often as you need them… made from things like coconut hulls, oyster shell (for added calcium), wood, rope and woven naturally dyed goodies, learn more about this line of foraging toys here.