Try Birdie Bread... It's Easier Than You Think!
I've always noticed people talking about "birdie bread" online on various websites and forums and never paid it much attention... until now. I finally decided to see what the fuss was about and ended up on Momma Bird.  
I found that it doesn't take much of my time to bake a little bread for my birds and after finding out how much my parrots need their beans and grains, I decided it would be worth it to try this birdie bread everyone swears by!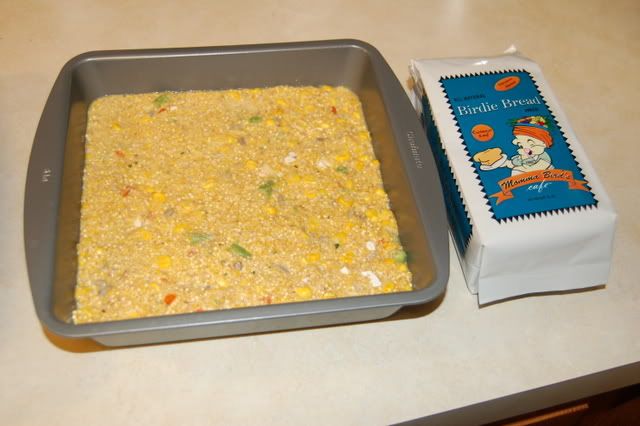 Photo by Jamieleigh Birdie Bread Prepared for Baking 
Just to give you an idea of the work you are expected to do, here it is, plain and simple:  
Question: Could you please tell me the instructions for baking your birdie bread loaves?  Is there much to it?  Do I have to mix any extra ingredients? Answer: All you do is add 2 eggs with shell, 1 cup of stock or water and love....and within 35 minutes, you have the most awesome bread around.  
Photo by Jamieleigh Location: Orlando, FL Eating birdie bread: Galah "Bandit"  
Here are some of the ingredients used in birdie bread to show you just how nutritious these little loaves are for your feathered companion:  
Organic Cherries
Organic Blueberries
Citrus
Healthy amounts of seeds & nuts
Beans
Grains
Veggies
Tofu
Spinach
Broccoli
Edamame
Red Bell Pepper
Pumpkin
Squash
Pear
Cinnamon
Check out the Momma's Cafe to order your own bread and pick and choose which ones your parrots might want to try! I ordered all of them to see which suited my flock best and because you can put them in the freezer.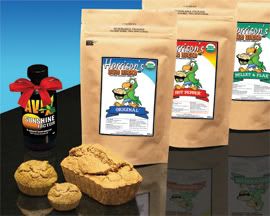 Photo from www.harrisonsbirdfoods.com
I was actually nervous for my flock to try it because I saw the average amount of fat was 15% and that seemed high to me. So I actually ordered some birdie bread from Harrison's (whose products are known for being organic) and theirs was the same percentage. However, they instruct on their website that birdie bread should only be up to the max amount of 30% of your bird's diet so treat it as a treat and don't make it for them as their entire diet every day.  
Photo by Jamieleigh Location: Orlando, FL Eating birdie bread: Congo African Grey parrot "Cressi"  
Here were my results: Out of the 6 different flavors on the website from Momma, my birds liked every single kind! I just ordered all 3 kinds from Harrison's website because I just know they will like it all. Birdie bread worked immeditately for my:
But the biggest fans of it of all my birds were ( and this was a close competition)... the parakeets! Hands down. Or, wings down...  
Photo by Jamieleigh Location: Orlando, FL Eating birdie bread: Rare White Parakeet "Visa"
Article by Jamieleigh Womach. She has been working with parrots and toucans since the age of 17. She isn't homeless but is home less than she prefers to be. She travels the world with her husband, daughter, and a flockful of parrots whom she shares the stage with.